Take out the popcorn, sit back and watch how amazing a movie party can be. What else could be better than spending some time with your favorite people, watching films you love! Whether young or old, a movie themed birthday is always a great idea. Try using these invitation wordings for added fun.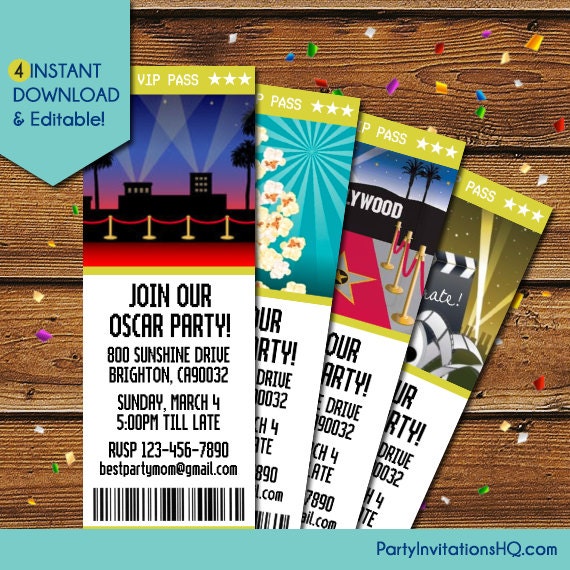 Movie Party Invitation Wording Samples
1. Make like movie theaters and use a ticket type of invite with this:
ADMIN ONE
Join us for Movie Night 
When: April 3, Sunday
Where:  554 Juniper Drive
Time: 8 PM 
RSVP to Cornelia 989-813-9273
2. Make an announcement just like in movie posters:
Presenting: A Movie Party!
Starring Janet in her 18th Birthday 
Premiere date: April 3, Sunday
Cinema location: 554 Juniper Drive
Screening time 8pm
RSVP the Executive Producer at 123-456-7890
3. Be your own director with this creative wording:
Lights... Camera... Action!
Join us for a Movie Party on April 3, Sunday
8 o'click in the evening
at 554 Juniper Drive
Don't forget to bring your own popcorn!
Regrets only to Cornelia 123-456-7890
4. Let everyone know about the presentation that you're hosting:
It's Show Time! Janet is turning 18 Join her for some fun and movies Head to 554 Juniper Drive On April 3, Sunday At 8 o'clock in the evening Save a Seat!  989-813-9273
A little rhyme always perks up any kind of movie party invitation wording. 
It's time for a movie party. You should be excited Because you are invited! Come over to 554 Juniper Drive On April 03, Sunday At 8 PM RSVP Cornelia 989-813-9273
Make a grand announcement with this last wording idea. 
FEATURE PRESENTATION Janet's 18th Birthday Join us for a night of movies and fun On April 3, Sunday At  554 Juniper Drive 8 PM Ticket Reservations through Cornelia 989-813-9273