Bowling parties are great for little kids, teen siblings, mom and dad and even grannies! If you expect a big family gathering in the upcoming  celebration, then a bowling party bash would be a great idea. Here are some suggestions on how to word your party invitation to get you started. 
5 Bowling Party Invitation Wording Samples
1. Class Bowling Parties
Here is our first bowling party invitation wording suggestions: 
Spare time to
Strike up some fun at
Andy's 5th birthday bash! 
Saturday, Oct 14, 2-4pm
Super Alley
678 Silverstone Blvd
RSVP Stephanie at 567.890.1234 by Oct 1
2. Rhyming Bowling Party Wording Idea for Kids
Here is another rhyming one:
Strike, spare and gutter balls
We don't care
Just tell us you will be there!
Josh's 7th Birthday Party 
October 14th (Saturday) 1pm
Lunch & Cake
Andy's place
678 Silverstone Drive 
RSVP to Mommy Stephanie at 567.890.1234
By October 1st
3. Short and Sweet 
Check out this short and sweet suggestion for a child's birthday:
We'll Bowl You Away with
Andy's 7th Birthday Bash! 
Bowling will start after 
Food & Cake 
RSVP to Andy's mom at 567.890.1234 by Oct 1
4. Bowling and Dinner Party
Another longer bowling party invitation wording idea:
Let's Get This Rolling
With an Afternoon of Fantastic Bowling 
Join us for Andy's 8th birthday party 
When the clock "strikes" 6pm
Saturday, Oct 14
Riverside Bowling Center
678 Silverstone Blvd 
We'll have dinner, cake and loads of fun! 
RSVP at 567.890.1234 to
Stephanie (Andy's mum) by Oct 1
5. Exciting Celebration for All Ages
Love this fun-loving suggestion that catches the spirit of any bowling parties:
Roll on over
As there's no time to "spare"
We are going bowling and we want you there! 
Let's celebrate
Andy's 3rd birthday Saturday, Oct 14
Monkey Gym
678 Silverstone Blvd 
Get ready to eat lots of junk
And bowl the day away! 
RSVP at 567.890.1234 to Stephanie by Oct 1
Are you a Busy Parent?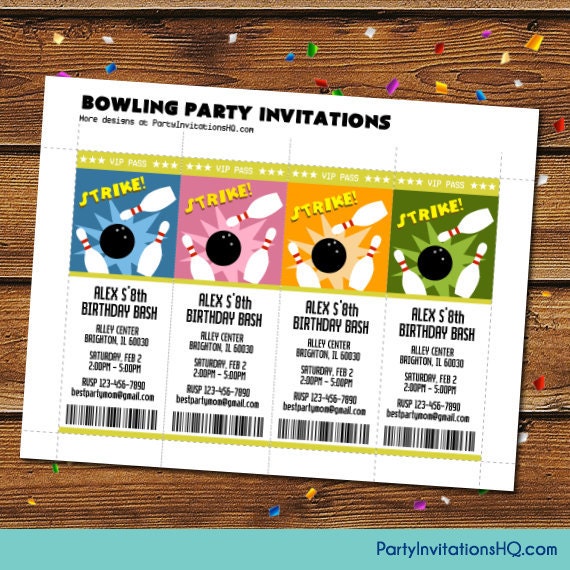 Check out these bowling invitations that you can download, customize and print in 5 minutes!  
For our full collection, we cover the latest movie theme and trends so you don't need to worry what's hot or not. Ask your kid to pick a party theme today!