Tumbling, jumping, running and other physical activities are always much loved by kids. Imagine putting together a party with these gym activities in mind.  A tumbling gym party will surely bring a lot of fun and  excitement to any birthday celebration. Try these invitation wordings  for some added fun. 
Gymnastics Party Invitation Wording Samples
1. Simple Cute Wording Idea
Have a lot of activities planned? This gymnastics party invitation wording will work well:
Get ready to
Run, flip and rumble
Britney is turning 11!
Tumble over to 36 Grand Avenue
On February 14, Friday 3 PM
Regrets 407-691-0395 Gina
2. For Preteen Gymnasts
Older kids may want something simpler, but still theme oriented:
Come and Hang Out with me
We'll totally have fun at my party! 
When: February 14, Friday
Where: 36 Grand Avenue
Time: 3 PM 
RSVP Gina (407) 691 0395
3. Creative Wording
Here is a creative way to use tumbling  gym related wording:
Britney is tumbling to 11
Jump, skip and celebrate with her
On February 14, Wednesday
Cartwheel over to 36 Grand Avenue
At 3 o'clock in the afternoon 
Call Gina for regrets (407) 691 0395
4. Funny Gymnastics Party Invitation Wording
Here's another gymnastics party invitation wording that is bursting with energy:
It's Britney Jane's 6th Birthday!
Come hang out and play
We'll bounce and tumble
Til our tummies grumble! 
Food and drinks will be provided as well
36 Grand Avenue, 3 PM
Wednesday, February 14 
Call Gina for regrets (407) 691 0395
5. For the Queen of Rhyme
Rhymes always add an extra fun touch to any wording:
Britney's about to flip
From 10 to 11
Come bounce, tumble and skip
On her special day 
Fun starts  at 3 PM so
Make your way to 36 Grand Avenue
On February 14, Wednesday 
See You There! 
RSVP Gina (407) 691 0395
Are You a Busy Parent?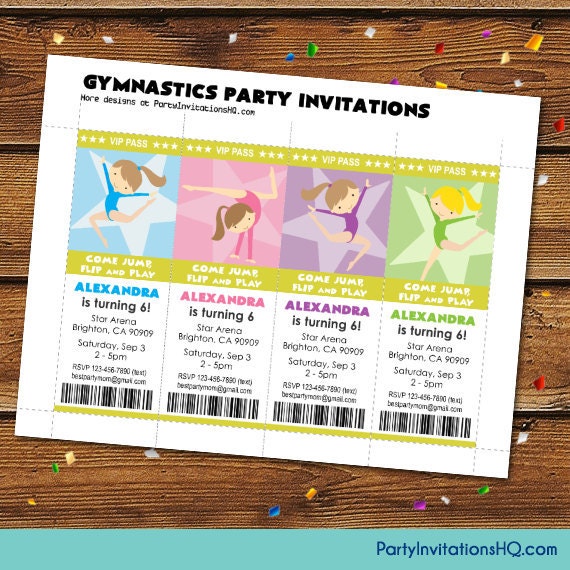 Check out these gymnastics invitations that you can download, customize and print in 5 minutes!    
For our full collection, we cover the latest movie theme and trends  so you don't need to worry what's hot or not. Ask your kid to pick a party theme today!